Starline provides one-stop shopping for moving and storage solutions. Our storage rates are competitive and our storage facilities are clean and secure.
Our 40, 000 square foot Calgary warehouse and 50,000 square foot Edmonton warehouse are both Canada Customs bonded facilities with high security controls. Bonded facilities means peace of mind for you. While awaiting customs clearance your personal effects can be delivered to our warehouse, in Starline's control, eliminating additional handling and concern. Both facilities are climate controlled, pest controlled, alarmed, palletized and equipped with sprinklers.
We offer short and long term storage solutions in our warehouses in Calgary and Edmonton. If you require storage in another country we are happy to arrange this for you through our global network of partners in all of the world's major centres.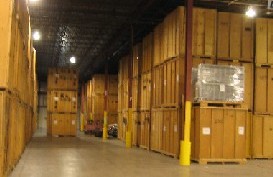 Prior to transportation to our storage facilities, your goods will be fully packed and wrapped using international packing methods and materials and a detailed inventory prepared. If your goods are being stored long term at our warehouse, the shipment is then placed in storage vaults which hold approximately 1500 lbs each, equivalent to about one room of furniture. For tracking purposes each storage vault is logged in your electronic file in our move management system.
For additional peace of mind please read protecting your goods.
For a storage price estimate please contact us in Edmonton at 447-4242 or in Calgary at 720-3244.
You may also use our convenient online quote generator.