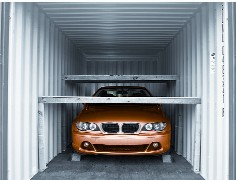 Starline can make arrangements for the transportation of your automobile or recreational vehicles.
If your vehicle is travelling with your personal effects it will depend on the size of your shipment and number of vehicles as to whether your automobile will travel in the same container as your goods or by itself. Regardless, your vehicle is properly strapped down, blocked in and padded to protect the vehicle. A detailed report on the condition of the vehicle (i.e. dents, scratches, rubs, paint condition, cracks, etc.) will be completed and signed by you and Starline prior to loading the vehicle.
At Starline we understand international documentation and can manage your export documents or the inbound customs clearance process for your international vehicle shipment.
When shipping a vehicle it will require that you do some preparation in advance. Following are general guidelines on what to do to prepare your vehicle for shipping.
Preparing a Vehicle for Transport
Vehicle needs to be operable.
Have a complete set of keys available to hand over on shipping day.
 Deactivate the alarm system.
 Wash the vehicle thoroughly for an accurate inspection.
 Remove all personal items from the vehicle, only spare tire and jack should be left in the trunk.
 Make sure the gas is no more than a 1/4 of the tank.
Antennas must be removed or fully retracted.
 Secure or remove any loose parts, i.e. ground effects, spoilers, wide mirrors, roof racks.
 Secure any tears or open seams on convertible tops to prevent further damage.
Have the vehicle serviced prior to shipping.
Vehicle should be free from any fluid leaks.
 Make sure the radiator has adequate levels of fresh antifreeze.
 Make sure the battery is secure and has no leaks.